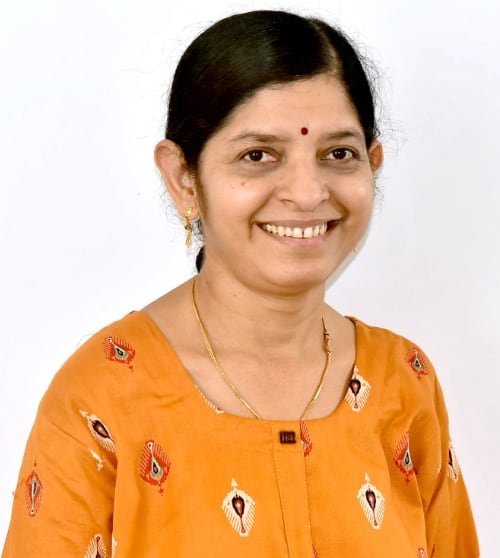 Vijaya K Gothwal is a low vision specialist and a Scientist at the L V Prasad Eye Institute, Hyderabad, India. She completed her undergraduation in Optometry from the Elite School of Optometry, Chennai, India and Postgraduation and PhD from the Queensland University of Technology, Australia. She completed a postdoc fellowship at the Flinders Medical Centre, Adelaide, South Australia. She has been working with the L V Prasad Eye Institute (LVPEI), Hyderabad, India for last 33 years. She is Diplomate in Low Vision and a fellow of the American Academy of Optometry. She is currently the President of ISLRR.
She is extremely passionate about her work in the field of low vision and blindness. Vijaya is considered a pioneer in this field which is exemplified by the fact that she set up the "Meera and L B Deshpande Centre for Sight Enhancement" at the Institute for Vision Rehabilitation, LVPEI, Hyderabad, India, 25 years ago. This centre is unique as it is among the first in the country to provide comprehensive low vision rehabilitation services and has been imparting confidence and the skills to these patients in being able to lead a productive and enabled life such that these people become contributing citizens of the society. Through her constant efforts and enthusiasm, she has been able to integrate the low vision services into the LVPEI network such that these are now available even in the remotest regions of the 3 Indian States of Telangana, Andhra Pradesh and Odisha. Trained professionals provide low vision services at these locations and the visually impaired patients do not have to travel to the cities for care.
She has been instrumental in commencing the "Low Vision Awareness Program, or LAP" to create awareness about low vision amongst the ophthalmic and optometric fraternity. Over the last two decades since when the training programs in low vision (LAP and short-term fellowship) were commenced by her, the centre has trained over 2000 eye care professionals from India and overseas in low vision rehabilitation and these are now independent practitioners providing these services in their respective regions. Thus, through these services, Dr. Gothwal has made a significant difference in the quality of life of the vision impaired patients and continues to motivate them to achieve their goals despite their limitations.
She has published widely with over 100 papers in peer-reviewed journals and has made over 150 presentations at National and International conferences (as invited speaker, free paper and poster presentations). She has been listed among the top 200 global optometrist research ranking. She received the Freda Bage Fellowship from the Fellowship Fund Branch of the Australian Federation of University Women Queensland Inc. during her PhD. She was awarded the Constance W Atwell award for Excellence in Low Vision Research in 2002 by the Low Vision Research Group Committee, USA. She received the award for best publications in international journals in low vision at the 38th All India Optometric conference in 2020.
Vijaya Gothwal's research interests include Outcomes research in Ophthalmology and Low Vision. Specifically, her research over the last two decades has focused on patient-reported outcome measurement (impact of ocular conditions on patients lives' and its treatment on their quality of life), effectiveness of treatments, low vision (specifically pediatric low vision). A key component of her research has been the development and validation of patient-reported outcome measures using modern psychometric techniques – Rasch analysis. She has developed a number of new patient-reported outcome questionnaires including the L V Prasad-Functional Vision Questionnaire (I and II), visual disability questionnaire, and Childhood Glaucoma Caregiver's quality of life questionnaire. More recently, her research has focused on cognition and falls in the vision impaired older adults. She conducts collaborative research with researchers in the UK and Australia.