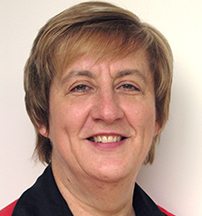 Professor & Graduate Program Chair School of Optometry, University of Montreal
Adjunct Professor, Department of Ophthalmology McGill University
Dr. Olga Overbury received her doctorate in Experimental Psychology from Concordia University. After her graduate studies, she held a postdoctoral fellowship at the Western Blind Rehabilitation Center of the Veterans Affairs Department in Palo Alto, California. Her research program encompasses the sensory, perceptual, and psychosocial aspects of visual impairment. She is interested in visual pathologies that affect older people and her research involves the comprehensive assessment of vision before and after medical and surgical intervention. Additionally, Dr. Overbury's research examines the possibility of improving the use of remaining vision and the development of appropriate outcome measures to assess the effectiveness of various training techniques. Finally, given that visual impairment can have a significant psychological effect on people experiencing the loss, as well as on their family members and social circle, her research program also encompasses the psychosocial aspects of visual loss in later life.
Dr. Overbury is currently Chair of the Graduate Program at the School of Optometry. This includes the program in Vision Impairment and Rehabilitation.